New deadline: 31 May 2023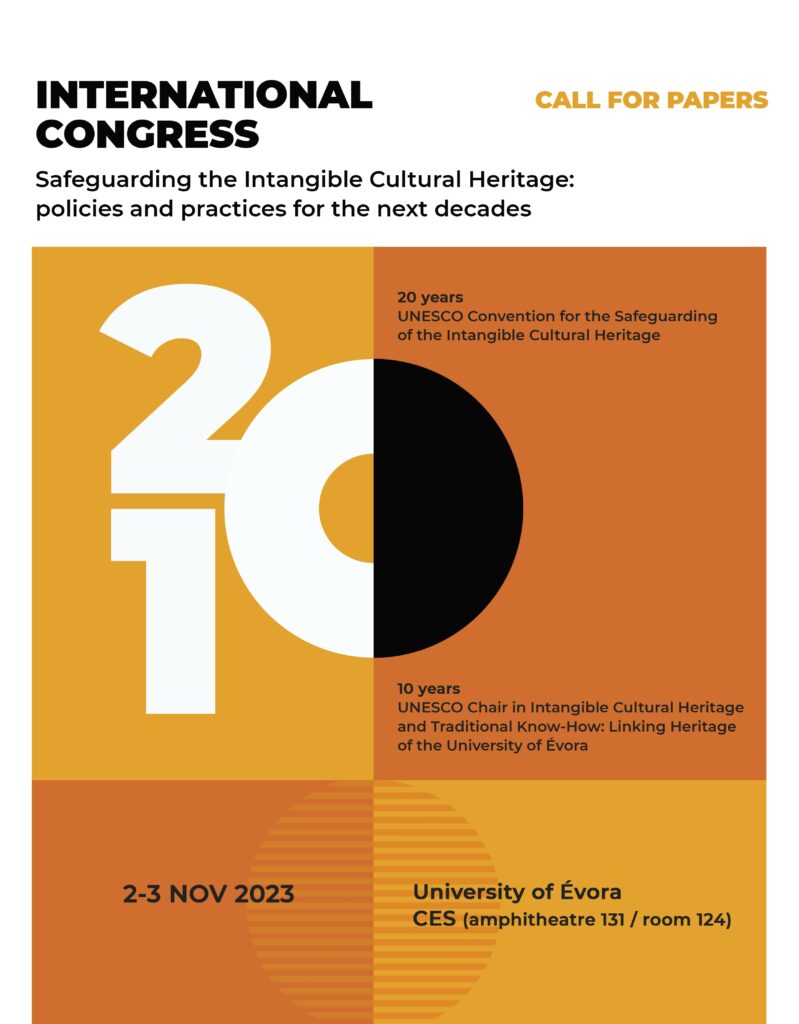 Within the framework of the International Congress "Safeguarding the Intangible Heritage: policies and practices for the next decades", the Chair launches a call for papers addressing the following thematic topics:
Intangible Cultural Heritage – lists and inventories
Traditional know-how
Good practices, case studies, and experiences
Theoretical reflection on Intangible Cultural Heritage
Intangible Cultural Heritage and Cultural Landscapes
Cultural Diversity and Heritage
Public Policies for the Intangible Cultural Heritage
Intangible Cultural Heritage and Tourism
Oral Traditions and Expressions, including Languages
Intangible Cultural Heritage and Material and Natural Heritage
Intangible Heritage and digital technologies
Performing arts
Social practices, rituals, and festive events
Knowledge and practices concerning nature and the universe
Intangible Cultural Heritage and gender issues
Intangible Cultural Heritage and sustainability
UNESCO values, citizenship, and Intangible Cultural Heritage
The Congress Scientific Committee may also consider proposals for papers that, although not falling within the scope of the above-mentioned topics, contribute to the reflection on ICH, and its diversity, case studies, safeguarding measures, etc.
Abstracts
The proposals must indicate the chosen topic of the Congress, title, and abstract (up to 500 words). Each proposal should present the theme and main argument, theoretical framework, methodologies, and main contributions, including a brief list of bibliographical references (optional). Format: 12-point Times New Roman font, single-spaced. Two copies should be sent, one anonymised and the other with the author's identification, institutional affiliation, and email.
Languages for submission and presentation of papers: Portuguese, English, Spanish, French (NB: the congress does not offer simultaneous translation service).
After the congress, authors will be invited to submit a full paper for publication in a book or journal with peer review.
---