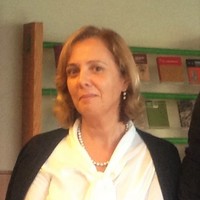 Ana Paula Banza was born in Barreiro, Portugal, in 1966. She has a graduation in Modern Languages and Literatures – Portuguese and French studies (1988) and a Master degree in Portuguese Historical Linguistics (1993), both by the Lisbon University, and a Doctorate degree (PhD) in Linguistics: History of Portuguese Language (2001) and an Aggregation degree in Linguistics: History of Portuguese Language and Textual Criticism (2015), both by the Évora University, where she lectures since 1991. Currently she is Assistant Professor with Aggregation in the Department of Linguistics and Literature (College of Social Sciences) of the aforementioned university.
Between 1989 and 1991 she had a scholarship of scientific research at the Centre of Linguistics of the University of Lisbon (CLUL), where she took part in the Dialectology Research Group, having participated in the projects of the "Linguistic Atlas of Portugal and Galicia" (ALEPG), the "Linguistic Romanic Atlas" (ALIR) and the "Linguistic European Atlas" (ALE).
Her scholar activity has been developed in the area of Portuguese Language and Linguistics and, in the scientific domain, she has been working mainly in the area of Philology and Textual Criticism, focusing her interest in the texts from the ancient and classical periods of the Portuguese language (from which stand out the edition and philological study of the works by Father António Vieira); in the area of History of the Portuguese language, but also in the area of Variation studies. In the more recent years of her research she has been involved with the Centre of Linguistics of the Nova University of Lisbon (CLUNL), with the Centre of Philosophical Studies of the Catholic University of Lisbon (CEFi) and with the Interdisciplinary Centre of History, Cultures and Societies of the University of Évora (CIDEHUS – FCT: Project: UID/HIS/00057/2013, Portugal, COMPETE 2020 ), of which she is currently a full member.