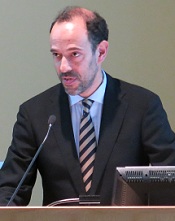 Born in Lisbon, he presently teaches at the Department of Architecture at the University of Évora, Portugal. He received his degree from the Faculty of Architecture of the Technical University of Lisbon (1992) and earned a M.Sc from Columbia University (GSAPP) New York (1995). In 2003 he completed his PhD at the Massachusetts Institute of Technology (MIT) at the Design and Computation Group.
He taught at the Pontificia Universidad Católica (PUC) at Santiago, Chile (1996), the Universidad Tecnica Frederico Santa Maria, Valparaiso, Chile, (1997), at MIT as a teaching assistant (1998-2002) and received a Post-doc Fellowship from the Paul Mellon Centre for Studies in British Art in London (2008). He is member of the CIDEHUS research centre and his research deals primarily with the development of computation in relation to architecture both from a historical and practical perspective.
He also pursues work regarding Portuguese heritage in the Mediterranean and Asian area. His most recent research work is linked to the International Cooperation Project Crossing the Mediterranean strait: 1300 years of Muslim culture at the Gharb al Andalous. A new architectural and historical perspective, by FTC and CNRST (Morocco).
Selected publications on heritage: