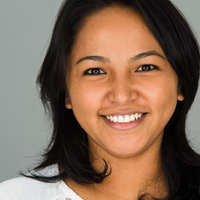 Monalisa Maharjan obtained a Master's Degree in Human and Natural Resources Studies form Kathmandu University (Nepal) and pursued her doctoral studies under the Erasmus Mundus Programme. In 2016 she received her PhD in History of Art and Heritage Studies from the University of Évora with a dissertation entitled "Linking Heritage: The Yenya Punhi Festival as a Path to Reinforce Identity. The Kathmandu Experience". During her PhD studies, she focused on the link between tangible and intangible heritage and on the question why safeguarding efforts that only pay attention to the tangible are not enough for long-term heritage conservation. In conclusion of her research she stressed the need to learn from and apply indigenous ways of heritage conservation through community involvement.
Her passion for both the heritage of the people and for the people was the impulse for her engagement in the field of heritage conservation, already perceptible in her Master studies on such issues as the relationship of people and authorities in the area of conservation, or the sometimes conflicting interests associated to the World Heritage Site of Kathmandu Valley. Currently, she centres her research on the response to heritage protection after the 2015 earthquake in Kathmandu Valley and is actively involved in the campaign to rebuild Kasthmandapa (in Kathmandu) by providing support to research and documentation.
Indigenous knowledge, community participation, people and their social linkages, living heritage, and questions of memory and identity are the topics she is most interested in.
Selected publications on heritage:
Maharjan, M. & Barata F.T. (2016). Heritage preservation and rethinking the future of a city: the options we choose and the strategies we make. In (Eds.) Reflections on the Built Environment & Associated Practices, Vol. 2, Kathmandu. (In press)
Maharjan, M. & Barata, F. T. (2016)- Natural Disaster and Intangible Heritage: Beyond the Horizon. Évora: CIDEHUS' e- Working Papers, n.2, 2016.
Maharjan, M. (2014). Is World Heritage a right or a liability to people?: A case study of Kathmandu Valley World Heritage Site of Nepal. In O. Vileikis (Ed.), The Right to the (World) Heritage (pp. 340–349). Cottbus. http://www.iawhp.com/?page_id=1953
Maharjan, M. (2012). Conflict in World Heritage Sites of Kathmandu Valley: A Case Study on the Conservation of Private Houses in Three Durbar Squares. Nepal Tourism Development Review, 2.