The Intangibles of Heritage: Concept, Recording, Safeguarding
15 Setembro, 2020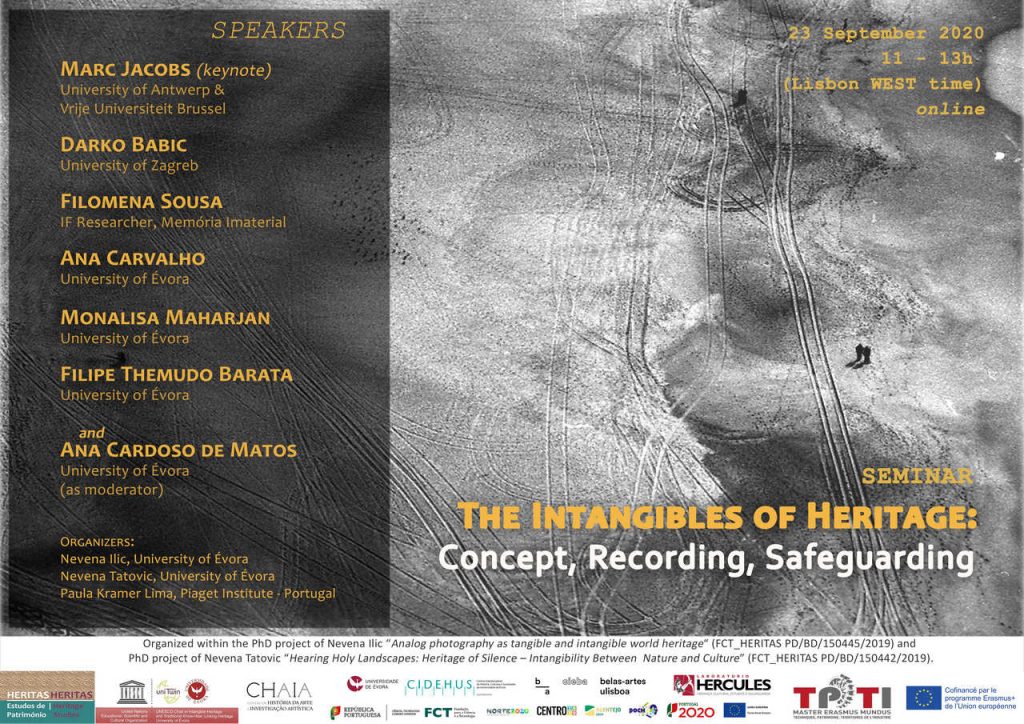 "The Intangibles of Heritage: Concept, Recording, Safeguarding" is an international seminar that intends to bring forth interdisciplinary perspectives to the concept of intangible heritage, the ways of its recognition and transmission, as well as definitions. The aim is to deepen the discussion between academics and students of the graduate level, master and doctoral in particular.
It is taking place within the framework of the FCT HERITAS – heritage studies PhD programme (University of Évora & Faculty of Fine Arts of Lisbon) and Erasmus Mundus Joint Master TPTI – Techniques, Patrimoine, Territoires de l'Industrie (University Paris 1 Panthéon-Sorbonne, University of Padua, University of Évora).
With support of UNESCO Chair in Intangible Heritage and Traditional Know-How: Linking Heritage, CIDEHUS and CHAIA , the seminar is jointly organized within the PhD project of Nevena Tatovic "Hearing Holy Landscapes: Heritage of Silence – Intangibility Between Nature and Culture" (FCT_HERITAS PD/BD/150442/2019) and the PhD project of Nevena Ilic "Analog photography as tangible and intangible world heritage" (FCT_HERITAS PD/BD/150445/2019).
In light of the circumstances of the Covid – 19 pandemic, the event will be happening online.
For programme and other details about joining the online session, please visit https://intangiblesheritage.wixsite.com/ioh1
ORGANIZATION:
Nevena Ilic (CIDEHUS – University of Évora)
Nevena Tatovic (CIDEHUS – University of Évora)
Paula Kramer Lima (Piaget Institute – Portugal)